PFCC - Newsletter
You can learn about Patient and Family Centred Care activities at Alberta Children's Hospital by reading our monthly e-newsletter - Together We're Better. This newsletter will give you insight into Family Centred Care Initiatives, profile our Family Centred Care champions, and keep you up to date on upcoming education opportunities. Archived copies are available on the FCRC website.
To receive the newsletter via email, please send your email address to achfcc@albertahealthservices.ca.
Together We're Better
ACH Patient and Family Centred Care E-Newsletter
February 2017
Welcome to the February edition of Together We're Better.
---
ACH Patient and Family Engagement Framework Nominated for President's Excellence Award
Nominated by Margaret Fullerton, Senior Operating Officer at the Alberta Children's Hospital, the ACH Patient and Family Engagement Framework is up for the President's Excellence Award for Outstanding Achievement in Patient and Family Centred Care! The nominees for this work include members of the PFCC staff team, the PFCC Steering Committee, and CAYAC. Award finalists will be announced in April 2017.
---
1st Anniversary for Family Advisory Council
Our Family Advisory Council (FAC) has been busy this past year! We wish to thank all of our 23 members for their contributions! In their first year, the Council has participated in 13 consultations, three of which were provincially led initiatives. Local initiative consults include a Parent Guide on how to manage their child's pain and Dr. Gordon Townsend School Programs.
I joined FAC to give a voice to myself, families, and other patients. The most rewarding experience has been when we get to hear the follow up or tangible change that has occurred after a consult.
~ FAC Member
**If you have work you would like to consult on with our Family Advisory Council, please contact our FAC Staff Coordinator.**
Some of our FAC Members at the 1st Family Advisory Council meeting
---
FAC Co-Chair Gives PFCC Voice at MNCY KPI Discussion
The Maternal Newborn Child and Youth Strategic Clinical Network (MNCY SCN) brings together a diverse group of Albertans that are keenly interested in improving healthcare outcomes for mothers, newborns, children, and youth in Alberta. This SCN is critically looking at areas where there are opportunities for improvement over the next three years -- to do this they are establishing a set of Key Performance Indicators (KPI's).
One of MNCY's goals is to include patients and families in the identification of need, development, design and implementation of solutions. MNCY representatives came to the Family Advisory Council (FAC) at ACH to get a sense from parents on what's really important to families and where there are some opportunities for improvement.
Dirk Trojan, FAC's co-chair, participated in a MNCY meeting earlier this month to help with the process of narrowing down the list of indicators. A list of 70 indicators were revealed and sectioned into four categories. This was the first meeting to discuss these KPI's, refine them and have an open discussion about them. I felt like my voice was heard at the meeting.
From his experience, Dirk reflected that, PFCC isn't integrated into all aspects of our healthcare and it'll make it so much better to do so. We've come a long way but we're not there yet. Hopefully the work on involving patient and family advisors in the selection of the MNCY KPI's will be a step in that direction.
---
PFCC Co-Design Workshop
In January, family advisors, patients, clinical and non-clinical staff participated in Patient and Family Centred Care workshops facilitated by the Design Lab Team, a department of Quality and Healthcare Improvement with Alberta Health Services. There were three workshops held in Edmonton, Calgary, and online. The goal of these workshops were to bring people together to brainstorm and come up with ideas and strategies to improve the patient experience through AHS' Patient First Strategy.
Maya Pajevic, one of our CAYAC members and a member of the AHS Patient and Family Advisory Group, co-facilitated the workshops. Tired of being seen as a diagnosis and not a person, Maya shared her dream of what person focused healthcare should look like in the future.
Participants worked together to come up with their idea or pitch of how to move PFCC forward. The pitches will now be assessed to see how they could be implemented throughout AHS with the hope of improving the patient experience.
L-R: Darryl Lacombe, AHS staff member and Jessica Havens, CAYAC Member, sharing their pitch explaining the importance of having patient/family advisors review and approve patient focused policies at the Calgary workshop. The whiteboard displaying six pitches developed at the Calgary workshop.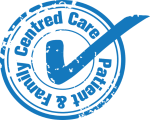 NEW Charging Station
---
There is now a NEW CHARGING STATION in DAY SURGERY waiting room on Level 3 for patients and families to use!
TEEN TRANSITION WORKSHOPS
---
Teen Transition Workshops
Youth ages 14-18 and their parents are invited to register for this free, five-week program designed to support teens transition from pediatric healthcare to adult healthcare.
February 25 to March 25, 2017
Saturdays
10:30 AM - 12:00 PM
For more info, contact Deb at 403-955-7252
To register, contact Tracy at 403-955-6842
CAPHC UPCOMING EVENTS
---
The ABC's of DCD (Developmental Coordination Disorder)
Dr. Zwicker will discuss this common but under-recognized neurodevelopmental disorder.
Wednesday, March 1
9:00 - 10:00 AM
Register
---
It's Play Time! Unexpected Reasons Why Physical Activity is so Important for Kids
Less than 10% of Canadian children achieve recommended levels of physical activity, and children with medical conditions are even less active than their peers. Tips for assessing childhood physical activity and supporting patients to become more active will be provided.
Wednesday, March 8
9:00 - 10:00 AM
Register
---
Pediatric Donation after Circulatory Determination of Death (pDCD)
Development and Implementation of Canadian Guidelines. Currently, only a small portion of DCD cases in Canada are those involving pediatric donors and the need for organs for children waitlisted for transplantation is not being met.
Wednesday, March 22
9:00 - 10:00 AM
Register
PARTNERSHIP SERIES: Life with a PreTerm Baby
---
Episode 5: Sleep Strategies for NICU Babies and Families
Sleep is critically important for optimal health for parents and children, yet sleep can sometimes be difficult to achieve. This session will review expected sleep needs and strategies.
Thursday, February 23
9:00 - 10:00 AM
Register
Past Newsletters
2019
2018
2017
2016
2015
2014
2013