PFCC - Newsletter
You can learn about Patient and Family Centred Care activities at Alberta Children's Hospital by reading our monthly e-newsletter - Together We're Better. This newsletter will give you insight into Family Centred Care Initiatives, profile our Family Centred Care champions, and keep you up to date on upcoming education opportunities. Archived copies are available on the FCRC website.
To receive the newsletter via email, please send your email address to achfcc@ahs.ca.
Together We're Better
ACH Patient and Family Centred Care E-Newsletter
November 2016
Welcome to the November edition of Together We're Better.
---
Highlights of 2016 PFCC Week
Our 5th annual Patient and Family Centred Care Week was a great success!
You could see many staff members and advisors wearing our green PFCC T-shirts throughout the week! This added to our visibility and awareness in the hospital.
We had amazing conversations with families and 16 people expressed an interest in becoming involved as a Patient and Family Advisor.
Many people were drawn to our displays this year, it gave them a lot to look at and participate in, whether writing on a leaf for our partnership tree, creating a Say it in 7 saying, taking a magnet or learning about the engagement model. Children and their families especially liked our craft table where they could create origami birds and folded butterflies to hang on our tree with the Say it in 7 sayings.
5 clinics/departments had their own partnership trees. The Rehab Clinic won the friendly competition for the most leaves.
Mark your calendar for PFCC Week 2017 - November 6-10.
To view a complete summary of PFCC Week, please click here.
---
What does partnership mean to you?
Patients, families, and staff were encouraged to write what partnership meant to them on a leaf and add it to our Partnership Tree. Our tree grew all week! After inputting all the words on the leaves, these were the dominant words that emerged!
---
Say it in 7 Challenge
We had 97 entries for the Say it in 7 Challenge and Tabea won a $50 gift card for Market Mall!
---
Highlights of the CAPHC Conference
This year's annual Canadian Association of Paediatric Health Centres (CAPHC) Conference was located in Halifax from October 23-25. We had three people attend this conference from our PFCC team.
Joy Fu, our Family Advisory Council Co-Chair, tells us about her experience: "CAPHC provided an opportunity to network and meet fellow family advisors from across Canada to share learnings and participate in discussions to create meaningful change in how our children receive care. It also allowed us to share stories and validate that we are not doing this journey alone. The conference is invaluable to build new collaborations, foster existing ones, and most of all make new friends."
---
CAPHC Citizenship Award Given to Alberta Children's Hospital Foundation
At the CAPHC conference, the Alberta Children's Hospital Foundation was honoured as the recipient of the CAPHC 2016 Citizenship Award.
The Citizenship Award is presented each year to appreciate and recognize an organization or foundation's commitment to the health and wellbeing of Canada's children and youth.
Since 1957, the Alberta Children's Hospital Foundation has inspired and enabled local, provincial, national and international excellence in research, patient and family health services and education. The work of the Foundation has resulted in many innovative and effective programs for many children and youth around the world. This work includes supporting many of our Patient and Family Centred Care endeavors.
---
Quality Summit Highlights
This year's Quality Summit took place October 24-25 at the University of Calgary. Many ACH staff and nine of ACH's Patient and Family Advisors attended.
Christian Farrier, CAYAC member and Deb Thul, Transition Coordinator at ACH, presented about a successful partnership with CAYAC to develop a self-management workshop for teens.
Maya Pajevic (second from left), CAYAC member, shared her insights as a patient and as an advisor during a panel discussion about what "together" means in healthcare.
Christian Farrier (far right), a youth advisor with CAYAC joined Dr. Verna Yu, William Maples, and Nick Adkins in a dialogue to wrap up the Summit.
---
Advisory Councils Participate in Planning the NEW Pediatric Menu
Both CAYAC and our Family Advisory Council were consulted by AHS Nutrition and Food Services to help develop the new inpatient menu that is now being offered in the Hospital!
A few highlights include a 14-day cycle, fresh fruits and vegetables offered daily, and a wider variety of choices that are healthy and kid-friendly.
---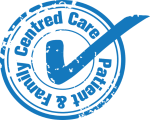 Partnership Leaves and Say it in 7 Challenge
Families and staff participated in PFCC week by writing out leaves for our Partnership Tree and Say it in 7 Challenge, here are a few examples!
CAPHC UPCOMING EVENTS
---
An Introduction to Neonatal Follow-Up Clinics
Learn how follow-up is expanding beyond data collection and surveillance to a more holistic model that considers family well-being and has a strengths-based approach.
Thursday, November 24
9:00 - 10:00 AM
Register
---
Mental Health Problems in Children with Neuromotor Disabilities
Discussions about using a multidisciplinary approach to mental health symptoms in children with neuromotor disabilities.
Wednesday, November 30
9:00 - 10:00 AM
Register
---
Youth Leaders at Holland Bloorview: How the Youth Mentorship Program is Leading the System
The Youth Engagement Strategy provides the structure to engage with Youth Leaders as partners and provides access for the hospital community to trained Youth Mentors
Wednesday, December 14
9:00 - 10:00 AM
Register
COMMUNITY EDUCATION SERVICES PRESENTS
---
Your Child in Pain: How to Help, What to Do
This workshop will focus on children's common fears, how to speak in times of crisis, and coping methods.
Tuesday, Decembr 6
6:00 - 8:00 PM
ACH, 4th floor Auditorium
Register
Past Newsletters
2019
2018
2017
2016
2015
2014
2013