PFCC - Newsletter
You can learn about Patient and Family Centred Care activities at Alberta Children's Hospital by reading our monthly e-newsletter - Together We're Better. This newsletter will give you insight into Family Centred Care Initiatives, profile our Family Centred Care champions, and keep you up to date on upcoming education opportunities. Archived copies are available on the FCRC website.
To receive the newsletter via email, please send your email address to achfcc@ahs.ca.
Together We're Better
ACH Patient and Family Centred Care E-Newsletter
October 2016
Welcome to the October edition of Together We're Better.
---
PFCC Week Starts TODAY and runs until October 21!
Our 5th annual Patient and Family Centred Care Week has begun! This year's theme is all about Growing Partnerships -- improving patient experience one partnership at a time. The week is an opportunity to learn about practices for building partnerships between care providers, patients and families and to showcase patient, family, and providers stories and perspectives about partnering together.
---
FEATURE SERIES: Why partnership is so critical in healthcare
A message from Margaret Fullerton - ACH Senior Operating Officer

Margaret Fullerton
At ACH we are committed to partnering with patients and families as soon as they begin their care journey at our hospital. We discuss their treatment and care options together, in a positive collaborative fashion.
As an RN, I remember practicing in this manner early in my career, even though it was not called patient and family centered care at the time. I was the primary nurse for a pediatric burn patient. Our treatment included baths for this 7-year-old boy who was in distress every time that we were about to undertake this treatment. I worked closely with the medical team, the mother and the child to arrive at a plan that would minimize, as much as possible, his pain and the dreaded experience. The mother and child were full participants in the care plan, which was ongoing and ever changing throughout his course of treatment. I will always remember his name and his face as our partnership was so fundamental to his very long healing process.
Thank you to patients and families and the entire team at ACH who practice daily to continually partner with each other in the best interests of excellence in care.
---
Partnership is a journey forward toward a goal where two or more entities support each other in a positive way.
Meet Dr. Mark Anselmo, the Facility Medical Director and Respirologist at the Alberta Children's Hospital. This busy man splits his time partnering with patients, families and staff in the Pulmonary and Oxygen Clinics and partnering with the ACH executive leadership team.
Partnership is critical everywhere in healthcare. From preventative care in our communities to personal partnerships in patient rooms and also in creating new units in the hospital, states Mark.
Families and healthcare providers can greatly benefit from partnering with each other. For one, decision making can be shared. Healthcare providers can help families know their options and families can then choose what's best for their child and family.
In my experience, families can have a very active role in their partnership with their healthcare team. They know their child best. And that knowledge is critical when making challenging decisions, says Mark.
Perhaps one of the largest partnerships Mark has seen at ACH was the establishment of the Edwards Family NICU. That is a massive example of partnership where many groups came together to ensure the NICU's success. The Edwards family had direct input into the Unit's design ensuring the focus was on patient, family, and staff welfare. Our ultimate goal was to help families and people went out of their way to help each other achieve this goal.
Equally as important are partnerships that happen every day, all day long on the units and in the clinics where families partner with staff and physicians.
Partnership starts in the communities, says Mark. With your family doctor and education about preventative care, such as bike safety, trampoline safety, vaccinations, and hand hygiene. This is the base to build more partnerships on in the future.
We've come a long way at the Alberta's Children's Hospital on encouraging and growing partnerships between healthcare providers and patients/families. We still have more work to do. And with our goal to support our families to the best of our abilities, I'm excited to be a part of that growth! exclaims Mark.
---
A Family's Story of Partnership
For Kristina and Drew McGuire, the birth of their second child, Sam seemed typical. Six days later Sam went in to cardiogenic shock. When they arrived at the Alberta Children's Hospital, Sam was resuscitated, stabilized, and flown to Edmonton for immediate open heart surgery. Sam was diagnosed with Hypoplastic Left Heart Syndrome and would undergo several life-saving surgeries and multiple hospital stays and clinic visits.
It's hard when your child is the patient, says Kristina, who's background is in nursing. There have been plenty of times when Sam has seemed more my patient than my son.
Partnership for me means being part of a team, trusting and communicating what's going on with Sam and our family. I've always been encouraged to be involved and advocate for my son. And, given my background, our healthcare team understands that I need to have more information to be comfortable and that I can handle it. There's always been a mutual understanding and I value that transparency, shares Kristina.
The McGuire's visit multiple clinics at ACH each year; Kristina calls them our hospital family. One of those clinics is Cardiology, Our nurse would call to check in, not just about Sam but about our family. It's amazing to have such amazing care and a strong relationship with our team.
As Kristina reflects back on what they've gone through with Sam, I get to have a say, not just as a Mom, but as part of his healthcare team. And they always include my opinion in his care.
---
Partnership on the Front Line
For the past 15 years, Vanessa D'Souza has partnered with patients, family, and staff as a physiotherapist at ACH with a focus in neurodevelopment.
Vanessa recognizes the vital importance of partnering with patients and families in her practice. Families are the expert on their own child. I'm a guest in their world and need to understand how they make things work for their child and family. My advice and recommendations needs to fit into that world.
In order to engage and collaborate with families, Vanessa emphasizes listening and learning in her practice. This means asking and answering questions, coaching patients and families through activities, and constantly reviewing what works and what doesn't. She has observed that today's families are generally more informed and finds it important to be responsive to their questions and concerns.
Vanessa links partnership to the idea of communityship -- a concept coined by Henry Mintzberg. According to Mintzberg you will find communityship, when you walk into an organization and are struck by the energy in the place, the personal commitment of the people and their collective engagement in what they are doing.
As Vanessa notes, healthcare is always evolving and it is key for stakeholders to move in it together. Beyond her daily work, she is making her contribution to this evolution by partnering with other staff and patient and family advisors on the ACH PFCC Steering Committee.
---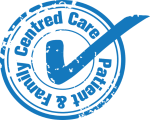 Enter to Win a Market Mall Gift Card
If you only had 7 words to describe the value and importance of partnerships between patients, families, and our healthcare system, what words would you choose?
Submit your ballot at the Say it in 7 table located in the cafeteria on the main floor of ACH or by email to PFCC.
All submissions will be posted on the Passion for Health Blog.
Our draw will be done on Monday, October 24th!
---
Partnership Tree
Families, staff, and physicians are encouraged to write on a leaf to help bring the Partnership Tree to life! Ideas for writing on the leaves can be: describing an experience of how partnership worked well, your commitment to partnering, or what's important to you when partnering with others. We want to make our Partnership Tree overflow with leaves!
Wednesday, Sept. 28, 2016
9:00 AM - 10:00 AM
*Please contact PFCC if you would like a few leaves for your meetings!
Partnership Trees and leaves are located in the Main Gathering Space (Cafeteria) at ACH and the Child Development Centre.
PFCC WEEK
SCHEDULE OF EVENTS
---
MONDAY, OCT 17
Noon - 1:00 PM - WEBINAR
Building Patient and Family Centred Partnerships
Located in B2-200 or register to view it from your own computer
REGISTER EMPLOYEES
REGISTER PUBLIC
2:00 - 3:00 PM - LYNC & AUDIO
Tanya and Ryan's Stories Theme: Physical and Emotional Safety in Healthcare
6:00 - 7:15 PM - LYNC & AUDIO
Parents 4 Change Fishbowl Session
TUESDAY, OCT 18
10:00 - 11:00 AM - WEBINAR
Professional Practice in Action -- Stories to Create Conversations
Located in B2-200 or register to view it from your own computer
REGISTER EMPLOYEES
REGISTER PUBLIC
Noon - 1:00 PM - TELEHEALTH
Patient-Doctor Unity: Toward a Balance in Healing and Curing
Located in B2-200
2:00 - 3:00 PM - LYNC & AUDIO
Darlene and Bob's Stories: Caring for Family Caregivers
WEDNESDAY, OCT 19
10:00 - 11:00 AM - TELEHEALTH
Igniting Indigenous Inclusion
Located in B2-200
Noon - 1:00 PM - WEBINAR
Leader Rounding: A Practice for Transforming Culture and Patient Experience
REGISTER EMPLOYEES
REGISTER PUBLIC
2:00 - 3:00 PM - LYNC & AUDIO
Leslie & Gary's Stories: How to Partner with Patients for Better Outcomes
THURSDAY, OCT 20
Noon - 1:00 PM - TELEHEALTH
Reading Emotional Queues: The Art and Science of Improving Connection and Communication
Located in A2-905 (2nd floor in FCRC)
2:00 - 3:00 PM - LYNC & AUDIO
Sylvia & Winnie's Stories: Communication & Partnership
FRIDAY, OCT 19
Noon - 1:00 PM - WEBINAR
Do You Understand Me? Communicating with Limited and Non-English Speaking Patients
Located in B2-200 or register to view it from your own computer
REGISTER EMPLOYEES
REGISTER PUBLIC
2:00 - 3:00 PM - LYNC & AUDIO
Maya and Randy's Stories: Seeing the Person
Past Newsletters
2019
2018
2017
2016
2015
2014
2013