PFCC - Newsletter
You can learn about Patient and Family Centred Care activities at Alberta Children's Hospital by reading our monthly e-newsletter - Together We're Better. This newsletter will give you insight into Family Centred Care Initiatives, profile our Family Centred Care champions, and keep you up to date on upcoming education opportunities. Archived copies are available on the FCRC website.
To receive the newsletter via email, please send your email address to achfcc@ahs.ca.
Together We're Better
ACH Patient and Family Centred Care E-Newsletter
June 2016
Welcome to the June edition of Together We're Better.
---
CDC Autism Spectrum Disorder Diagnostic Clinic WINS Prestigious President's Excellence Award
Each year, Alberta Health Services recognizes the outstanding work of its staff and physicians by celebrating nominees in five categories for the President's Excellence Awards. This year, there were 99 nominees - a new record for AHS. The recipients of these awards represent the highest standards in innovation, collaboration and patient-centred care.
Alberta Children's Hospital (ACH) Child Development Centre (CDC) Autism Spectrum Disorder (ASD) Diagnosis Clinic won the award in the category of Quality Improvement! Since 2013, the ACH CDC ASD Diagnosis Clinic decreased the diagnosis wait time from over a year to one month and reduced the time to complete a diagnosis by 40 percent!
Having input from Family Advisors who have been through the ASD Diagnosis process was a huge help in streamlining the diagnosis process. This was achieved by giving our own perspective of what worked and what didn't in our own journey to have our children diagnosed through the Clinic, says Ann Blanco Reyes, a PFCC Family Advisor.
One of the main components is helping reduce the stress on parents and some of that stress can be relieved by a simplified and faster diagnosis. Most families cannot afford to pay for private diagnoses so the CDC ASD Clinic is the lifeline they need. Once given a diagnosis, families have a place to start, comments Julia Gnida, another PFCC Family Advisor who also worked on the project.
Attaining a ASD diagnosis is a crucial and pivotal piece because families can then apply and attain services they need to help their child and ultimately their family. Many Calgary families have already benefited by accessing resources more quickly and since the prevalence of ASD in Canada has more than doubled in the last 10 years, these quicker diagnoses will be life changing for more families in the future.
View other President's Excellence Award winners.
---
Kangaroo Care WIN for ACH!
Level 3/4
The Kangaroo Challenge was held from May 2-15, 2016, and 74 hospitals participated in North America and 21 hospitals in Australia!
The Alberta Children's Hospital won the Level 3/4 category with 3.5 hours per baby per day!
This is considerably more than the statistical average of 0.98 hours per baby per day of skin to skin care in level 3/4 units.
This is very exciting for our unit, said Sarah Vigar, RN and team lead for the Kangaroo Challenge in the ACH NICU.
So proud of our NICU team and our Parent Partnership in Care Committee's (PPCC) passion and initiatives, commented Jan Lind, Clinical Support Nurse and co-chair of the PPCC.
---
FCRC Charging Station
The Family and Community Resource Centre now features a charging station! This is a great place for families to charge their phones, tablets, and other devices. Some families arrive at the Hospital due to an emergency without their chargers so we recognize this is a much needed service! It also draws foot traffic into the Resource Centre so families can see what else the FCRC offers.
This is a pilot at ACH with the hopes of adding more charging stations around the hospital. If you use it, please leave your feedback.
---
We've Changed our Logo!
Some of you may have noticed that our check mark logo has recently changed!
We felt it was important to update our look and truly reflect both patients and families. If you want to know more about how you can obtain the PFCC stamp of approval, email the PFCC team.
---
Family Advisory Council Fall Dates
The Family Advisory Council meets the third Tuesday of the month - book your consultation with them today
September 20
October 18
November 15
---
CAYAC Fall Dates
The Child and Youth Advisory Council provides a youth perspective - come and consult with them at one of their Saturday meetings.
September 17
October 22
November 26
---
Wishing everyone a great summer! May you have times of fun, adventure, rest and rejuvenation.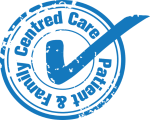 Institute for Patient and Family Centred Care Webinar
Applying Patient and Family-Centred Care Concepts to Manage Challenging Solutions
Join this webinar to learn how to respond to situations that challenge hospital frontline staff to develop and sustain partnerships with patients and families.
Wed, July 13, 2016
11:00 AM - Noon
Conference Room 3
ACH 4th Floor
Stanford Children's Health/Packard Hospital Presents 3 Summer Webinars
Creating and Sustaining an Effective Family Centered Patient Safety Program
This presentation will describe strategies for recruiting, training & sustaining FCC parents at the different levels of hospital-based patient safety work
Thursday, June 30, 2016 11:00 AM
---
Integrating the Patient Safety Agenda into the Work of Patient and Family Advisory Councils
This presentation will discuss strategies to integrate patient safety initiatives into both unit-based and hospital-wide PFAC agendas.
Thursday, July 28, 2016 11:00 AM
---
Enterprise-Wide FCC Hand-Hygiene Initiative
This presentation will describe human-centered design processes used to develop and launch this program.
Thursday, Aug 31, 2016 11:00 AM
---
CAPHC Presents Upcoming Webinars…
The Role of Leaders in Fostering a Fair and Just Culture
Learn about one organization's journey in developing a positive Patient Safety Culture.
Friday, June 24
9:00 AM - 10:00 AM
---
Understanding the Interplay between Culture and Care: Building Capacity to Care for Aboriginal Children and Youth
A unique initiative developed out of clinical questions about how to best generate and disseminate knowledge related to improving the well-being of Aboriginal children and youth.
Wednesday, June 29
9:00 AM - 10:30 AM
---
Mental Health Problems in Youth with Developmental Disabilities: Foundations of Assessment and Intervention
A review of what we know about emotional and behavioural problems in youth with developmental disabilities and why they are at greater risk than their typically developing peers.
Wednesday, July 6
9:00 AM - 10:30 AM
---
Going Rogue… How a Canadian Children's Hospital Challenged Gene Patents
Panelists will discuss a ground-breaking case that has defined the pathway for all public Canadian hospitals and labs to conduct genetic testing without legal roadblocks from gene patents.
Wednesday, July 13
9:00 AM - 10:30 AM
Mental Health Commission of Canada Presents…
Mentally healthy workplaces benefit patients and healthcare workers alike
Did you know that healthcare workers are 1.5 times more likely to be off work due to illness or disability than people in all other sectors?
Wednesday, June 29
10:00 AM - 11:00 AM
Past Newsletters
2019
2018
2017
2016
2015
2014
2013