PFCC - Newsletter
You can learn about Patient and Family Centred Care activities at Alberta Children's Hospital by reading our monthly e-newsletter - Together We're Better. This newsletter will give you insight into Family Centred Care Initiatives, profile our Family Centred Care champions, and keep you up to date on upcoming education opportunities. Archived copies are available on the FCRC website.
To receive the newsletter via email, please send your email address to achfcc@albertahealthservices.ca.
Together We're Better
ACH Patient and Family Centred Care E-Newsletter
September 2014
Welcome to the September edition of Together We're Better. In this issue we will be highlighting the events planned for Patient and Family Centred Care Week - September 29 - October 3.
Patient and Family Centred Care Week - September 29 - October 3
Three years ago our Patient and Family Centred Care (PFCC) Steering Committee hosted the first PFCC Week at the Alberta Children's Hospital. This year, all of Alberta Health Services is joining us and making it a province wide event.
The theme for the week is Collaboration, Compassion, Coordination ... ALWAYS.
We encourage family and staff to use this week to reflect on ways to strengthen the partnership with patients, families, and staff. We're providing a number of events to help you do so.
Go to our website for more details about the week.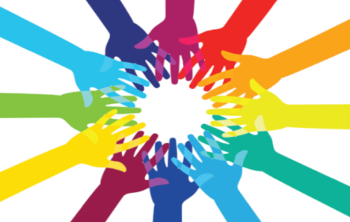 PFCC Week 2014 Theme:
Collaboration
Compassion
Coordination
....ALWAYS
6 Word Contest: "How do you Partner for Patients?"
During PFCC Week we are hosting a 6 Word Contest. Using six words (and only six words) describe "How do you Partner for Patients".
Need an example - how about:
Listening: It makes all the difference, or
Teaming up because we are better together.
Families and staff are encouraged to enter this contest. You can can enter as a team or as an individual. We will have prizes for both.
Entries will be accepted via email or in the drop box at the display in the main gathering space during PFCC Week. Entries will be posted as they are received. Deadline for entries will be Wednesday October 2 at midnight.
Winners will be announced at our PFCC Week Celebration on Thursday at 12:30pm.
PFCC Movie Time Tuesday, Sept 30, at Lunch
Bring lunch and join us to watch fun and inspiring video
clips about Collaboration, Compassion, and Coordination.
Clips will be shown from 12:00-12:30pm and repeated again from 12:30-1:00pm. Come when you can.
We'll be in Room B2-200 (across from main elevators on second floor).
PFCC Rounds - Collaboration Wednesday, Oct 1, 8:30-9:30 AM
The theme for this session of Patient and Family Centred Care Rounds is "Collaboration". Come and watch two digital stories exploring the experiences of a staff member and a family member. Our discussion leaders, Dr. Marli Robertson and parent, Diana Manz will engage us in a conversation about collaboration from the stories and their own
PFCC Week Celebration Main Gathering Space Thursday, Oct 2, 11:00-1:00
Let's celebrate Patient and Family Centred Care at the Alberta Children's Hospital!
Drop in to the main gathering space anytime between 11:00 AM - 1:00 PM.
Invite someone you partner with to take a picture with you in our photo booth.
Make a thank you card for a team member you appreciate.
Play a fun interactive game that focuses on collaboration, compassion, and/or coordination skills.
Visit our display booths - learn about PFCC work at ACH and sign up for our PFCC Network.
Enjoy some cake!
Telehealth Education Sessions
Compassionate Communication
Wednesday October 1, 12:30 PM - 1:30 PM in B2-200
Come to this session to learn how the language that we use affects relationship between care providers, patients and staff members, and how self-awareness can help us to communicate with more understanding and compassion. Presented by Jaeun Macen, Clinical Pastor, Spiritual Care at Foothills Medical Centre.
Putting the Parent in Patient and Family Centred Care
Thursday, October 2, NOON - 1:00 PM in A2-905(FCRC)
Pediatric Grand Rounds hosted by Glenrose Rehabilitation Hospital and presented by Dr. Gail Andrew and three parent advisors.
Building Patient & Family Centred Care into the Foundation of SHC
Friday, October 3, NOON - 1:00 PM in B2-200
Learn how patients partnered with architects and clinicians to ensure Calgary's new South Health Campus (SHC) was a patient and family centred care facility - from the ground up to care delivery. Presented by Joanne Ganton, Manager of Patient and Family Centre Care at SHC and Kenneth Chiang, Principal, Kasian Architecture Interior Design and Planning.